A visual Live Blog is worth a thousand words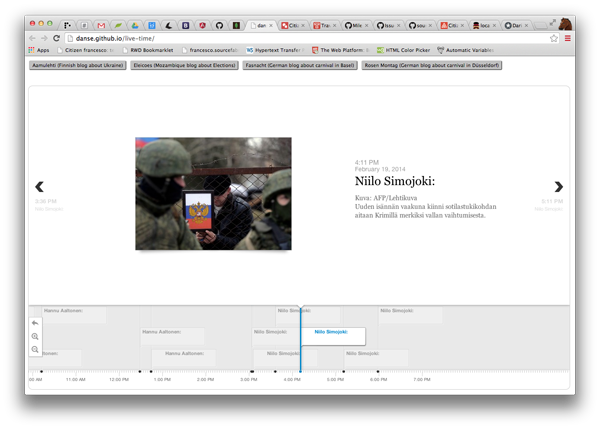 With the recent release of Live Blog 2.0 beta, we're re-imagining what a live blog is, how it looks, and what it can do.
We believe Live Blog can help make your coverage more engaging, more visual and and more intuitive to users. To prove our point, our innovations team has been working on some prototypes, which we would like to share with you.
We call the first solution a visual Live Blog, a concept we introduced at ONA13 in Atlanta last year. The prototype took aesthetic inspiration from Flipboard and applied the concept of covering live events.
We've since applied this concept to three Live Blog instances from our clients. Rheinische Post and TagesWoche (check your speaker volume) both deployed Live Blog this spring to cover carnival celebrations in their areas. The Finnish news agency STT-Lehtikuva has been using it to cover the ongoing unrest in Ukraine.
There's more. News organizations around the world are using Live Blog to cover politics, culture and sporting events. You can read more about that here.
Our second initiative was integrating TimelineJS with Live Blog. TimelineJS has been getting a lot of attention recently for its elegant and intuitive design. As more and more media become time and data sensitive, TimelineJS was an obvious choice to recontextualize Live Blog.
Our prototype adds an improved aesthetic. The horizontal scrolling design is also better suited to imagery. And it helps audiences get an overview of activity, zooming in and out with ease. You can see it in action here. 
The next stages for this involve explorations into the use of d3 for a more scaleable solution.
Try Live Blog 2.0 beta for free. Write to us and get Live Blog on your site today.