Belga, Belgium's Leading News Agency, Goes Live with Superdesk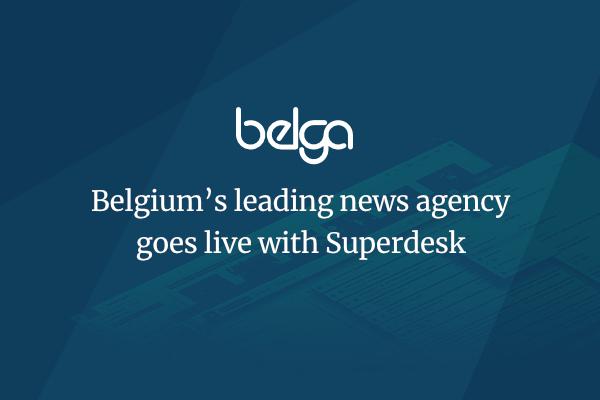 Superdesk, the industry-leading open-source content management system for news organisations, has gone live at Belga, Belgium's top news agency. Starting today, Superdesk is powering the entire editorial operation of the Brussels-based newsroom; additional features, such as editorial planning and event calendaring functions, will be brought online in the coming weeks.
With its CMS installation, Belga launches the most collaborative, multimedia-friendly version of Superdesk ever created, and their contributions to the software's development are a key reason for its continued success. Originally planned for launch in the spring of 2020, the coronavirus pandemic delayed the launch until this week.
Tom Wuytack, Belga's CIO, said the news agency opted for Superdesk "to evolve and to prepare for the newsroom of the future." The agency's previous system, an in-house CMS, had reached the end of its technological lifespan and was unable to adapt to business needs. Superdesk, as an established, open-source tool with lower installation costs and the benefit of collaborative development, was an appealing alternative.
"Superdesk solves quite a lot of the bottlenecks that we have today," Wuytack said. "It will allow us to eliminate some current modules and just bring it back to one single system that will further evolve, in part because many other news agencies are already using it."
One of the key challenges for Belga was improving its newsroom workflows. With its old CMS, Belga maintained separate systems for planning, producing, and distributing its content, adding time and hassle to basic tasks. But in Superdesk, these modules are connected, streamlining the news-making process. "That was one of the main drivers to pick Superdesk," Wuytack said.
Another major challenge for Belga was enabling access to external users. As resources have shrunk, Belga, like other news organisations, has had to rely more on freelancers and third parties. "Working together in the same ecosystem was way more difficult in our previous system but should be part of our daily workflow in the new one," Wuytack said. A new Production API for Superdesk, built to meet Belga's requirements, will allow external apps to access content still in production, making it easier for writers and editors outside the newsroom to collaborate.
Since its public release in early 2016, nearly a dozen publishers have adopted Superdesk or are transitioning to the software. Every month, the platform delivers more than 375,000 news items to over 100 million readers on four continents. As a "headless CMS," in which the front end has been decoupled from the content-processing interface on the back end, Superdesk is a highly flexible digital-publishing system. It is built on an open-source code base, which allows partner media organisations to collectively make improvements and share costs.
Belga, with 135 employees – including 100 journalists – becomes the fifth major news agency to power the entirety of its operations with Superdesk, following the Australian Associated Press, the Canadian Press, Norwegian news agency NTB, and ANSA of Italy.
"We are excited to welcome Belga into the Superdesk family," said Sourcefabric CEO Sava Tatić. "These are extremely challenging times for news organisations around the world, and many journalists are being asked to do more with less. But that does not mean journalism must sacrifice technological quality. When major media players like Belga select open-source software to power their news operation, everyone in the industry benefits."
What can Superdesk do for your organisation? Request a demo today.