Growing an Audience in Restricted Media Spaces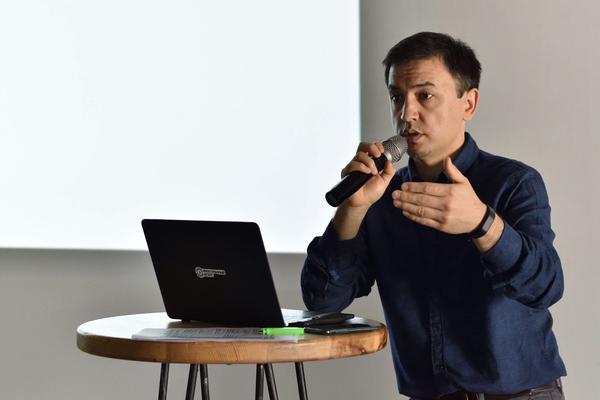 Sourcefabric's mission is producing technologies that give independent journalists the tools they need to deliver content to their audiences as efficiently as possible. But in places where the free flow of information is intentionally restricted, not even the best software can deliver the news. Other methods of delivery are key.
This is especially true for news organisations like Current Time TV, a Prague-based Russian-language news service that is part of the Radio Free Europe/Radio Liberty publishing network. Sourcefabric recently caught up with Current Time Digital Managing Editor Tolkun Umaraliev, to discuss technologies' role in circumventing government censors, navigating blocked websites, and building trust among audiences that have been programmed to be skeptical.
Current Time TV delivers Russian-language news content to audiences in places where governments are actively working to shut you down. How do you navigate this challenge?
We have technologies that allow us to bypass many forms of censorship. Governments can target specific URLs and specific websites, so we rely a lot on VPN services and mirror sites for all our language services. For example, within Radio Free Europe-Radio Liberty, we have our own news apps, which are automatically VPN enabled. What this means is that whenever the app is in use and feels that access may be blocked, it turns on the VPN automatically.
For the most part, these apps work fine in countries where we are blocked. But we must be realistic. Apps are only for those who are our loyal audience members. We cannot target wider general audiences with apps because the audience must already be aware of our work. In other words, an audience must trust us enough to download our app, which is only a small fraction of the people we seek to engage with our news.
How, then, do you reach broader audiences, including people who might not already trust you, as you say?
We are heavily reliant on social media platforms that are popular in target countries. It could be Facebook or Telegram, for example, or VKontakte in Russia.
We also use mirror sites, which are websites that 'mirror' the content from somewhere else. Because mirror sites have a different URL than the blocked site, users are still able to access our news. It's not really a cat and mouse game, because most governments don't react that quickly to blocking our content on mirror sites. But at some point, they do react and block our new sites. When that happens we just move to another site via the mirror. Configuring this doesn't take a lot of time.
RFE/RL services that use mirror sites run ad campaigns promoting new addresses on all available platforms, especially social media.
We already do this in quite a few places. For instance, our website in Azerbaijan is blocked and we use mirror sites. Our Belarus site was blocked almost a year ago. They use a mirror site. And the Uzbek service has been blocked since 2005. They also use mirror sites.
Are there any limitations to this approach?
The only issue is that it's difficult to track statistics. To do that, you need to add special UTM (Urchin Tracking Module) codes at the end of each link. These allow you to see how people are engaging with your content on the website.
Another problem is that we end up losing potential audiences that might come via search. Mirror sites are not searchable in most cases. Google and other search engines index the original website, but that is of no use when the original site is blocked.
You mentioned social media platforms. Specifically, what are you doing in this space to grow your audience?
From the very inception of Current Time TV, in 2017 we have been a digital brand and digital centric. We are not a website or a TV station. We deliver content wherever it's comfortable for the audience to receive it. We have more than 6.5 million subscribers across all digital platforms, which includes YouTube, Instagram, Facebook, and Russian homegrown social media networks like VKontakte, OdnoKlassniki, as well as Yandex, the most-used search engine in Russia. We try to be as native as possible, meaning we create content directly on those platforms. We don't want to drag people away from their comfort zone to our website. We would love them to do so, but that's not the goal for us. So, even when our websites get blocked in Russia or somewhere else, that's not a huge blow to us because we'll continue working with available platforms whenever we can.
Has this strategy been successful?
Absolutely. For example, in 2020, we had 1.5 billion views online, and two-thirds – more than 1 billion – were on Facebook, Instagram, and YouTube. This makes us a leading Russian-language media on these platforms.
To be sure, much of this growth was driven by the news cycle. The year was quite full of important events, like Covid-19, protests in Khabarovsk in eastern Russia, followed by elections and protests in Belarus, and the Navalny poisoning. The whole year was kind of crazy, which created a thirst for information from our audiences. In turn, they started reaching out to us looking for information because at some point, we were literally the only ones providing content from certain parts of the world. For example, for a time we were the only ones doing live coverage of the protests in Khabarovsk. We were the only Russian-language television channel doing live coverage in Belarus before our journalists were kicked out last year. There are lots of other examples. Our audiences know this, and whenever something happens, they actively seek us out.
Because you work primarily in restricted spaces, platforms are essential to your news distribution strategy. What can news organisations in unrestricted places learn from your experience?
The general trend is that you must be as digital as possible and 'native' as possible to succeed as a news organisation, because the concept of websites is ageing.
'Native' is when you create content specifically for digital platforms. Most of our 'native' content is mobile oriented, since most of the consumption happens on mobile platforms, but some are created with bigger screens in mind (though this is a very small percentage of what we do on digital).
If you're a well-established brand you might be able to remain print- and website-focused. But for media organisations that are not established yet, for them, being as native as possible is the only way to survive.