Pioneering international collaboration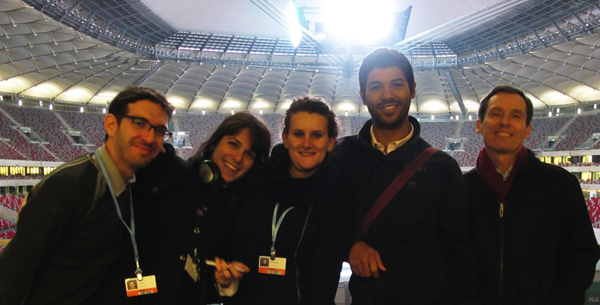 Journalists covering slow-boiling, complex stories need the right tools to keep audiences engaged. Here's how one group tackled the problem with Sourcefabric's Live Blog.
The Climate News Mosaic (CNM) is a collaborative reporting project put together by climate-change journalists on four continents. The group came together last year to produce independent coverage for the United Nations Climate Change Conference in Warsaw.
"The international climate negotiations, some might say, have almost exhausted the world's media attention span," CNM journalist Ido Liven wrote at rtcc.org. "Consequently, original reporting, if it was there in the first place, is pushed aside, most often only to be replaced by occasional news agency dispatches."
The intent was, as Liven wrote, "to encourage original reporting and expand the scope of climate journalism to reflect today's interconnected and interdependent world and the truly global nature of the unfolding climate crisis."
The group financed the costs of sending three team members to Warsaw with crowdfunding campaign on IndieGogo. To keep the coverage simultaneously global and local, other CNM journalists shared snippets of their reporting from their home countries.
But file it where? The CNM journalists needed a platform that could help them share their coverage with readers of multiple outlets around the world. The solution had to be low cost and give CNM full control over their content and output — so proprietary blogging software was out of the question. Instead they turned to Sourcefabric's open-source Live Blog.
"We're a collective of journalists. We make group decisions. Transparency and technological and editorial independence are very important to us," CNM journalist Anja Krieger said.
Live Blog let the group share their content with publishing partners around the world by simply pasting a little code in the host sites' CMS. "Even with various levels of technological ability, it worked very well. It was very user friendly and simple to use," Liven said. "Our partners liked that they didn't have to deal with traffic or software. They just pasted the code and that's it."
Because Live Blog is open source, the CNM group was able to modify the CSS to find an output that worked for all their partners. Adding Google Analytics to the software allowed the journalists to track the Live Blog's performance — data which can help them secure funding and partners for similar projects in the future.
Here at Sourcefabric, we are already working on the CNM group's suggestions for improvements to Live Blog, which the journalists plan to use to cover future events. Such projects are invaluable to the development of our tools. We are incredibly grateful for their collaboration and look forward to seeing how their project develops.
You can shape the future of Live Blog, too. Contact us to find out how Live Blog can boost your news coverage.