An integrated live strategy
ZEIT ONLINE
ZEIT ONLINE is one of Germany's largest news organisations. The German news site serves over nine million unique users a month with close to 60 million visits per month. Sourcefabric began working with ZEIT ONLINE back in 2014 with one of the earliest versions of our Live Blog software. As one of the first publishers to begin using Live Blog, ZEIT ONLINE has been intrinsic to our feedback development process, and subsequently, Live Blog has become essential to their reporting process. "We have been using Live Blog for a while now, so much that it has become a basic component of our newsdesk. We have been able to rely on it at any given time," said Johannes Neukamm, ZEIT ONLINE editorial research and development department.
The challenge
As Sourcefabric and ZEIT ONLINE have been working together for so long, there have been many changes to Live Blog as a result of the cooperation.
Most recently, the ZEIT ONLINE team engaged in a comprehensive redesign of their online website. As part of this relaunch, it was necessary to revamp the way Live Blog worked with their site, better integrate it into their new design and provide some new updated features to enhance their live blogging capabilities.
With Live Blog being such an important part of their live reporting process, it was essential that it could directly meet the needs of ZEIT ONLINE and their editors. One such need was a way to indicate which live blogs were active and which were no longer producing new content. In addition to this, editors that were covering live events such as sporting matches were in need of a better method to display live score updates. While these may seem like small challenges and requirements, they were very important in meeting the visual needs of their readers.
The solution
To meet the needs of ZEIT ONLINE in response to their website redesign, the Live Blog team delivered three key updates. The improvements included a newly customised theme, a new scorecard feature and visualisation of active and inactive blogs. While the ZEIT ONLINE team provided design elements for aesthetic integration with the new site, Sourcefabric customised a new Live Blog theme to better respond to their new website layout. The new layout highlights the updates in a timeline and makes sharing content via social media or email easier for readers. Neukamm commented on the theme design change: "The embedded content fits nicely on our site's fresh face. What made the switch especially efficient was that regarding the newsdesk staff's work, nothing had to change."
In addition to this new theme, the Live Blog team developed a feature that would allow ZEIT ONLINE to better differentiate between their active and inactive live blogs through the use of a visual representation of active and current vs inactive or archived live blogs. With this new feature, active blogs are highlighted with a "live" banner and an inactive blog receives a visible "closed" tag prominently displayed above the blog title. With the increased importance of live blogging in current online news reporting, the new theme and the active/inactive labels give the reader an immediate visual to quickly recognise breaking news from older reporting and improves the general integration of live blogs in the website.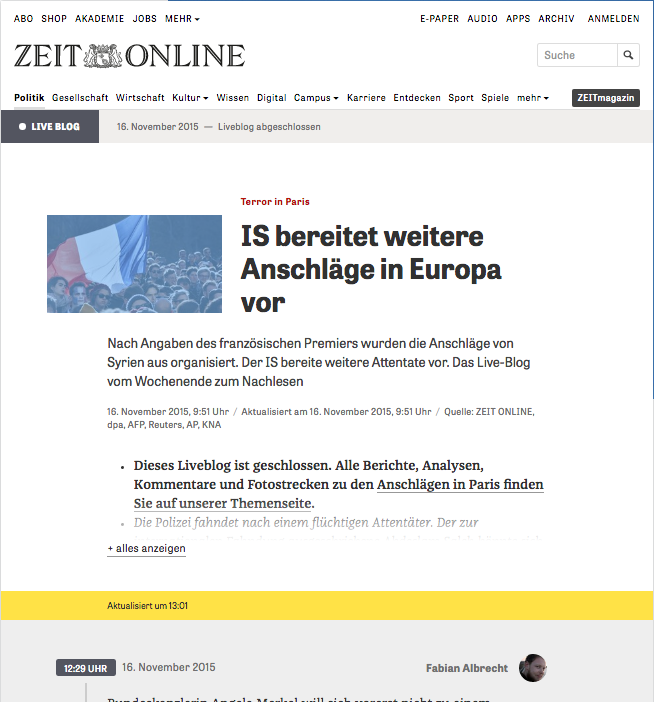 The third and final improvement we made to Live Blog was the addition of a new post type called "scorecard". Scorecard is designed to quickly display any information that can be presented in numeric format such as goals scored during a sports match, or votes earned in an election. This new post type was designed with a simple and clean layout while at the same time clearly displaying all important information.
Results
Due to all of these improvements, ZEIT ONLINE can now provide a better live blogging experience to both their readers and their editors. Having a nicely designed and feature-rich application is important for the editorial success of ZEIT ONLINE'S live news coverage. For the Berlin-based ZEIT ONLINE News team, live blogging is the best option for certain types of news coverage. With the use of Live Blog, specifically the newly revamped version, ZEIT ONLINE is able to easily cover a wide variety of live events such as elections coverage, sporting events and unexpected breaking news events.
The use of Live Blog provides ZEIT ONLINE and their readers with professional and seamless live coverage that takes their site above and beyond what is expected of traditional online news sites. We are looking forward to continuing this cooperation with ZEIT ONLINE in the future and are excited to see what improvements and updates will come to Live Blog through this mutually beneficial relationship.